Free Embroidery Patterns

This design was inspired by artist David Scheirer, and is #3 in our Little Stitchy Collection of free embroidery patterns. And if you would like to learn more about our featured artist, be sure to check out his interview below, under our Artist Spotlight section.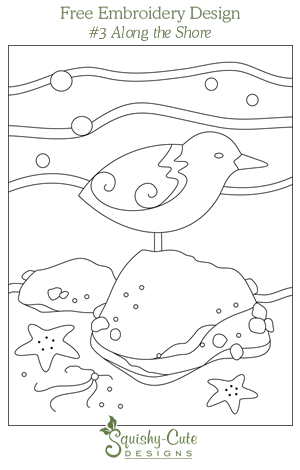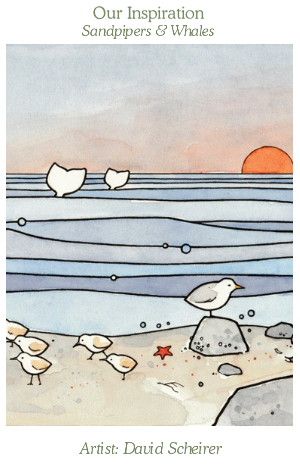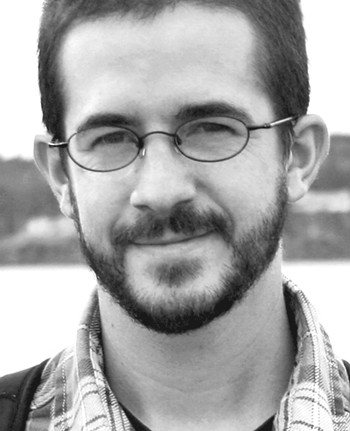 • David Scheirer •
Studio Tuesday
Watercolor Paintings
Websites: studiotuesday.com,
dswatercolors.com
Shop: www.etsy.com/shop/studiotuesday
Facebook: www.facebook.com/studiotuesday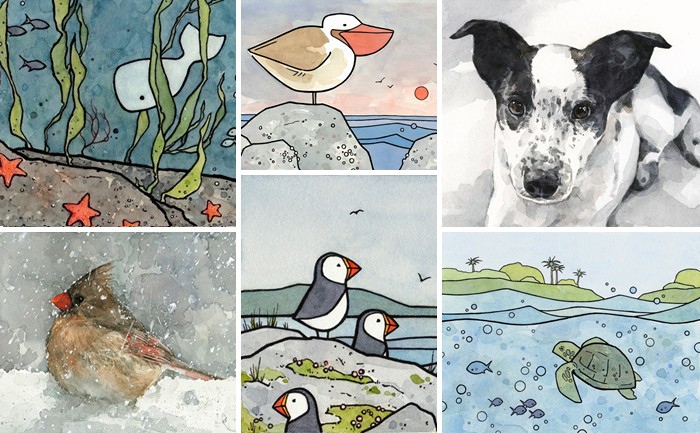 Kelli & Greta's favorite picks of David Scheirer's work.

Meet David…
1. Tell us a little bit about yourself.
My name is David Scheirer. I live in the Washington DC area with my wife and 2 cats. I am a full-time artist and illustrator. And I paint in watercolors.

2. How did you learn to paint?
I have a BFA in painting. I had great teachers in high school and throughout college. I've never taken a class specific to watercolors, but have applied what I have learned about painting and drawing in general to my watercolor work, along with my own experimenting and practice.

3. What inspires you most/where do your ideas come from?
I love spending time outdoors. I love birdwatching, walking and hiking, beachcombing, and exploring. I especially love coasts and water – traveling to these areas is always very inspiring.

4. Show us your three favorite paintings and tell us why you like them.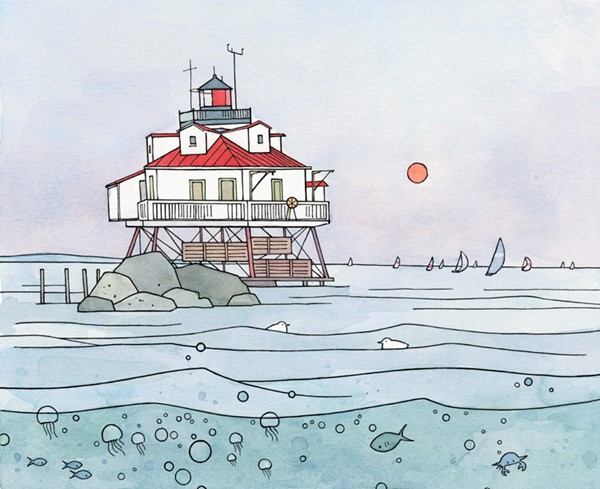 Chesapeake Bay Lighthouse
I love lighthouses. This is a local one near Annapolis. This was my first drawing of architecture in this style and it is such an interesting building. I think the colors work well in this one, the mix of soft pastels, scarlet and teal. It was fun to be able to sneak little animals and birds into the landscape as well.
https://www.etsy.com/listing/103894452/chesapeake-bay-lighthouse-illustration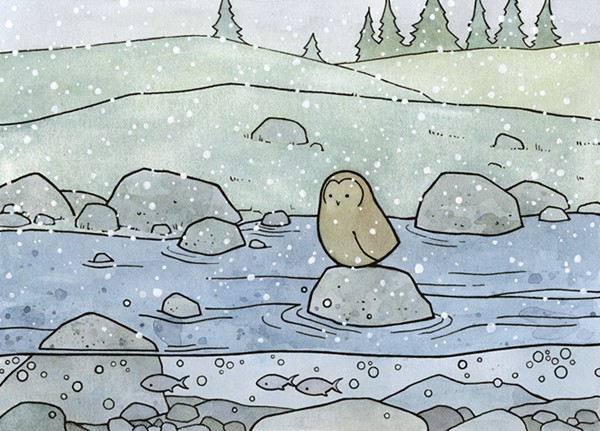 Fishing Owl
This is based on a Russian owl that catches fish. It is a good example of my soft muted color palette. I like the added underwater dimension here and I always enjoy painting weather, especially grey, stormy days.
https://www.etsy.com/listing/92678528/owl-and-fish-illustration-print-5×7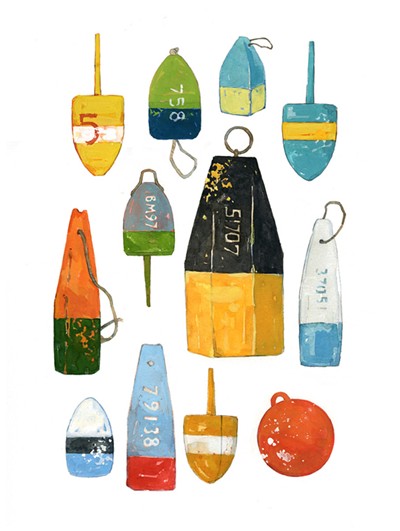 Lobster Buoys
This is a piece in my other style of painting. I painted this after my first trip to Maine. Texture is another thing I have a lot of fun painting, and the old paint and wood of the buoys was especially interesting.
https://www.etsy.com/listing/99141052/lobster-buoys-watercolor-painting

5. Tell us about the first thing you can remember painting?
I've been painting since I can remember. One of the earliest was a series of seascapes with sailboats and whitecaps. They were long narrow paintings on wood.

6. Who is your favorite artist/designer/craftsman and why?
It's hard to pick one from all the painters and illustrators I admire. A recent favorite is Rie Munoz, an artist that paints expressive, colorful scenes of day-to-day Alaskan life. I also admire Mike Mignola's work, the creator of Hellboy. I think his simplified style is beautiful and I love the sense of humor in his writing.

7. What is your favorite color? Does it influence your work?
Green, although I find it one of the hardest colors to work with. I think a lot of landscape painters might agree with me.

8. Where has your work been displayed?
I have shown in a variety of local galleries and alternative spaces. My favorite has been my show at the Project Puffin center in Maine. They conserve and study Puffins and other seabirds. Half the proceeds from the show went to their program. I was able to travel to Maine and visit the Puffin nesting islands. I fell in love with Maine and enjoyed it so much I am still involved with Project Puffin and go up to volunteer every year.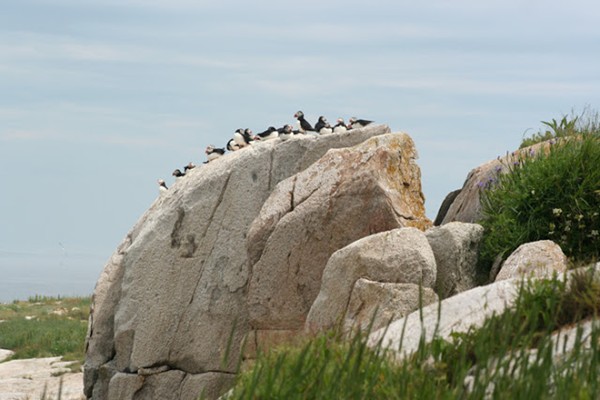 9. When you paint, what is the one thing you cannot do without?
I am especially picky about the paper I use. After years of watercolor painting and trying different papers I landed on Fabriano 300 lb. Hot press. It is a smooth paper, and very heavyweight which I like because I don't use a watercolor block or stretch the paper. I like Fabriano because they use no animal by-products. I could go on and on about paper.

10. Do you enjoy collecting anything?
I love collecting and it has a big influence on my artwork. I'll just mention my two biggest collections. One is shark teeth. I look for them along various beaches. The ones I find are fossilized, mostly around 15-20 million years old, and are from a variety of species. They range from the size of an ant to the size of my hand. Looking for them is a bit like treasure hunting and is quite addicting. The other is a collection of bottlecaps with animals on them, which I have a couple hundred of.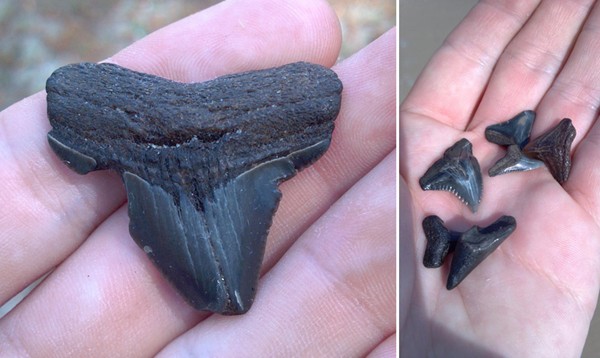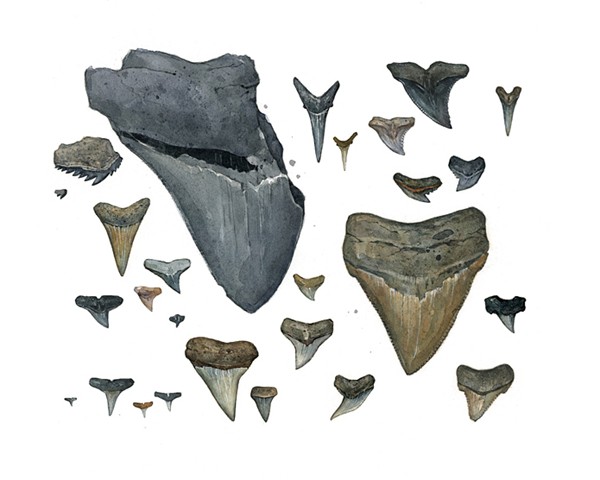 11. Where do you sell your paintings?
I sell most of my work online – through my websites and Etsy. I think Etsy is a great venue. It has taught me a lot about running a business, has given me great exposure, and allowed me to go full-time with my art. I have two shops on Etsy, my main shop is called Studio Tuesday. And the other, called 100 owls, is a series of owl illustrations. (https://www.etsy.com/shop/100owls)

Thank you so much David for your interview and for being a part of our Artist Spotlight! And also for inspiring an embroidery design for our Little Stitchy Collection.



Return to Artist Spotlight Interviews
Return to Free Embroidery Designs
Return to Home Page