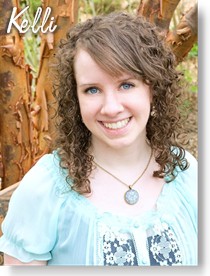 Hello and Welcome to Squishy-Cute Designs!
My name is Kelli Rinta, and my mom is Greta, and we are the designers behind Squishy-Cute Designs. We both have such a passion for designing and creating, that starting our own design company sounded like a really fun venture that we could do together. So in 2009 we started our first website, Holiday Crafts and Creations. We created many free craft ideas which we shared on that site.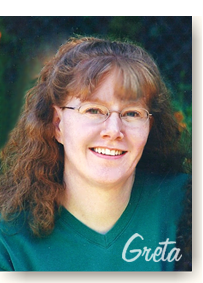 We also created our first plushie pattern, Frankie the Fish. But after making Frankie, we thought about creating even more plushie patterns, and eventually decided it was something we wanted to put more focus on. So we started our own pattern company, Squishy-Cute Designs! But we didn't want all of those free ideas we created to just go to waste, which is why we are now in the process of combining our two efforts. So you will start to see more and more free ideas on this website as we slowly bring all of our free sewing patterns and free craft projects over to this site, to share with you!
The Story Behind Our Company Name:
We began our company by designing stuffed animals, and because stuffed animals are soft, squishy and cute, the name "Squishy-Cute" seems fitting, wouldn't you say? However, there's a little more to the story than that. "Squishy" is actually my mom's nickname for me. The nickname started when I was a baby because she thought I was so cute that she just wanted to hug and squeeze me until I popped! But since obviously that was a bad idea, she decided to call me Squishy instead, to express how tight she really wanted to squeeze me. And luckily she didn't go with "squeezy". Good call mom!!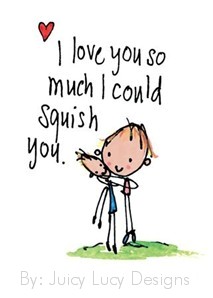 Otherwise we might have been "Squeezy-Cute Designs" which just doesn't have the same ring to it, I don't think! She would always tell me, "I want to hug you so tight that you pop, but oh-so lovingly of course", kind of like this image I recently found, by Juicy Lucy Designs. When I showed it to my mom, she laughed and said that's exactly how she feels! So for as long as I can remember, we have both called something that's really cute "squishy-cute". So ultimately we choose our company name because of the special meaning it has between my mom and I. And we also thought that with a name like Squishy-Cute to live up to, we would always strive to create the cutest designs our combined efforts could muster. So we will keep trying until one day maybe we will create something so cute, you too will want to hug it till it pops! But in the meantime, we hope you'll like what we've made so far!



Still Want to Know a Little Bit More About Us?
Well, what we really wish we could show you is our cute little studio that we work out of, but we don't have one. We just work in a corner of our ordinary house, which more often than not is a crafty mess. But our dream is to someday have an amazing studio to work in and then we will be able to post a picture of it for you (But just don't check back too often on this!). So until then, we have some other pictures for you.
• Check out our "Photo Albums" below.

• Also be sure to check out our "Favorite People, Places & Things" on

Kelli & Greta's Photo Albums