Free Embroidery Patterns

This "Spring Songbird" design was inspired by artist Ande Hall, and is #7 in our Little Stitchy Collection of free embroidery patterns. And if you would like to learn more about our featured artist, be sure to check out her interview below, under our Artist Spotlight section.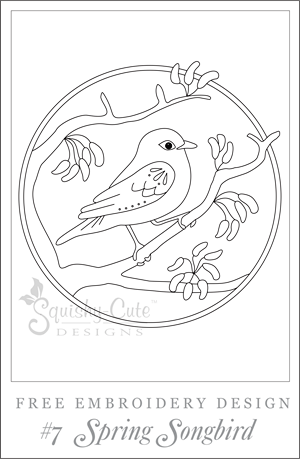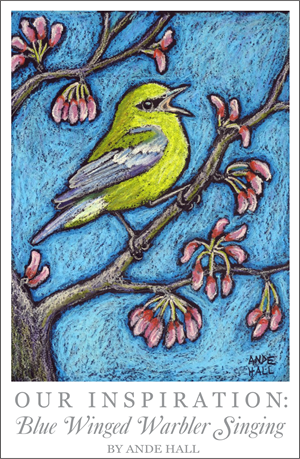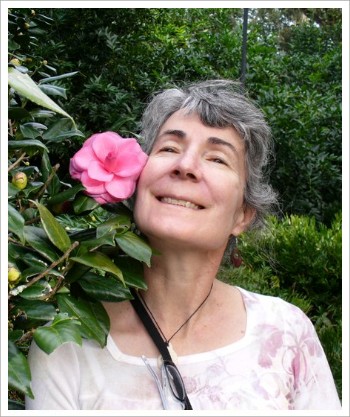 • Ande Hall •
Oil Pastel & Acrylic Paintings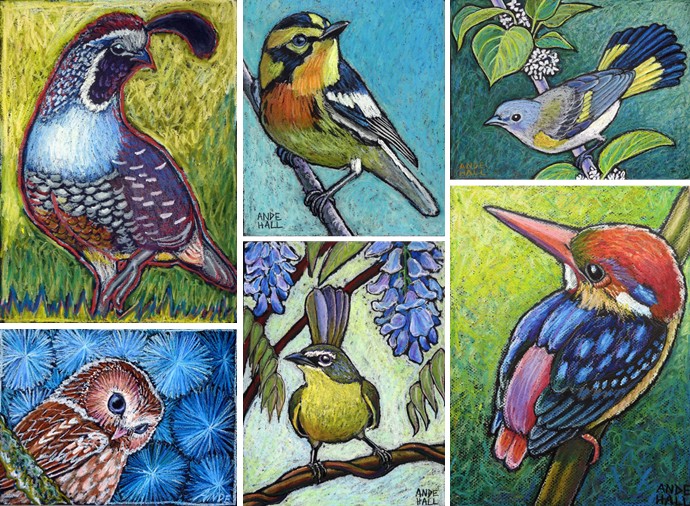 Kelli & Greta's favorite picks of Ande Hall's work.

Meet Ande…
1. Tell us a little bit about yourself.
I am a semiretired veterinarian exploring the world of art. As a child I loved to draw. But when I grew older, many other interests crowded art out of my life for a long time. Art reappeared when I had children. I reconnected with my own childhood passion for drawing by creating art with my young son and daughter. But as my children grew older, art once again got crowded out. Horses (dressage and jumping) was an interest my daughter and I shared for many years, and ballroom dance was a hobby that turned into a passion after my kids went to college. However, because we lived in Santa Fe, New Mexico, art was ever present! For so many years I took my out of town visitors gallery hopping on Canyon Road. Such a joy! And always the same little voice in my head, "I want to do that!" Ironically, it wasn't until I relocated to rural Kansas that I finally heeded that voice. In 2008 I sold my veterinary clinic and home in Santa Fe and moved to Pratt, Kansas (population 6500) to marry a wonderful man. A part of this radical plan was to try my hand at art. I went to the local community college to enroll in an art course, and discovered that there was no painting course, but there were 2 fabulous pottery courses! It became a full time obsession. When I wasn't in the ceramics studio, I was watching YouTube pottery videos and reading ceramics books. At the end of my first year I was invited to teach a course in Ceramic Surface Design. In 2011 my pottery obsession came to an end when my husband got an irresistible job offer in a new town. I was sad to leave behind the incredible ceramics facility in Pratt, but I decided that it was time to try painting. After the horrors of moving I set myself up a basement painting studio, got myself an easel and some acrylic paints, and dove in.

2. What made you want to become an artist?
I think that there is an innate human drive to create beauty. That is essentially at the core of all art forms. Years of exposure to all the wonderful art galleries in Santa Fe was a huge factor in my decision to attempt making my own art.

3. How did you learn to paint?
I am largely "self taught", but I think that is sort of a misnomer, as I have learned so much through the internet. YouTube, blogs, online tutorials, artist forums, etc. The opportunities for learning online are boundless.

4. What inspires you most/where do your ideas come from?

Inspiration comes from so many sources. Obviously, looking at the artwork of others online is tremendously inspirational. But there is also something that happens to my brain when I go on long bike rides or walks. I always carry a little notebook to sketch or write down ideas, and I always have my camera ready to photograph things I might want to paint.

5. Show us some of your favorite paintings and why you like them.
Radiant: This was a very big one (36×48). I had so much fun with metallic paints. I think I used 10 different metallic paints.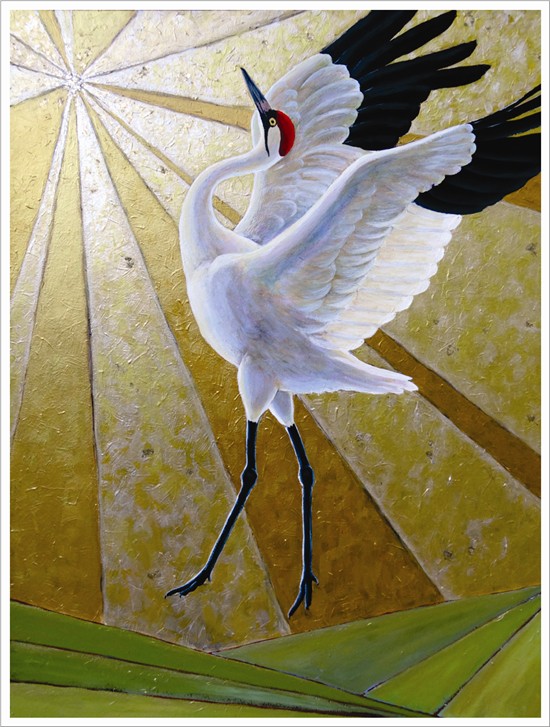 Sumatran Rhino: In this painting I wanted to show the shy and endangered Sumatran Rhino in a playful setting that also was inspired by textile designs found in it's native land.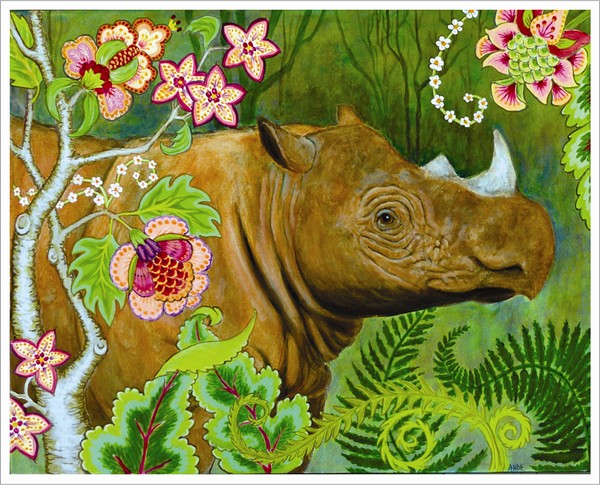 Three Ewes (below on left): I had a lot of fun with texture in this sheep painting. I created the spirals on the sheep with gel medium in a ketchup squeeze bottle.

Goose March (below on right): This was from a photo I took in the early morning. I loved the light on the white geese.

6. What are your favorite materials or medium?
I work mostly in acrylics and oil pastels. Acrylics are very versatile. I am an impatient person, and I like how fast they dry. Also, acrylic mediums enable me to create such a range of textures. Oil pastels were kind of a happy accident. Someone gave me a $10 set of Pentel oil pastels, and I just loved how fun and easy they were to work with. Kind of like being a kid again and using crayons.

7. Aside from painting, what else do you enjoy?
I love the outdoors. Living in Santa Fe for so many years really spoiled me. I love to hike. Now that I live in Kansas, I ride my bike instead. Dancing is something I love as well. I taught ballroom dance part-time for several years. My husband and I share a love of old houses, and since we met we have renovated 3 old houses.

8. Where do you sell your paintings?
I sell most of my work online, through Etsy and Daily Paintworks. I have shown my art occasionally in local galleries, coffee shops, and shows. But I prefer online, as it is less stressful and less work!!

9. Has your work won any awards?
Yes:
2011: Shafer Gallery, Great Bend, KS. Juried Art Competition. 2nd Place
2012: Kansas State Fair, 1st place portrait division, 2nd place animals division
2014: Sterling Kansas, Juried Art Competition Honorable Mention award

10. Who is your favorite artist/designer/craftsman and why?
There are SO MANY artists I admire, but the answer that immediately comes to mind when I read this question is Paul Klee. He had such a unique style and vision, and I just love the humor and whimsy of his work.

11. Has your work been featured in the media?
A little over a year ago, Wingart, a Chinese art supplies manufacturer, purchased some of my oil pastel paintings to use in packaging design. They also hired me to create an instructional leaflet to include in the oil pastel packages. Here are some of the free samples they sent: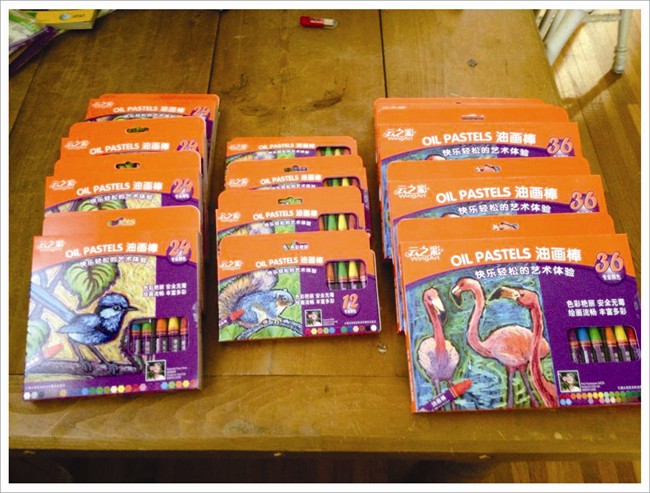 12. Do you teach painting or have you written any books on the subject?
I wrote an oil pastels instructional leaflet that I created for Wingart:

Hi! My name is Ande Hall, and I love to paint with oil pastels! Oil Pastels are soft crayons made of oil, wax, and pigment (color). They are small, inexpensive, easy to use, and very portable. I like that you don't need to use any tool to apply them; you just draw very much like children's crayons. (Maybe one of the reasons I like them is because it feels a little like being a child playing with crayons!) But the layering and blending abilities of oil pastels, as well as the intensity of colors, are far greater than children's crayons. Layering means putting colors on top of one another to create new colors. For example, yellow layered on top of blue creates green. The softness of pastels enables them to be blended very smoothly if desired. It is possible to paint in a very realistic, detailed style with oil pastels, but it is also easy to paint in a casual, playful style because they are so fun to SCRIBBLE!! Painting with oil pastels will make your hands a little messy, but ordinary baby wipes do a great job of cleaning your hands.
The oils in the pastels prevent the finished painting from truly drying. This means they never crack, but it also means that a finished pastel painting should be matted and framed under glass to protect it from smudging.
Pastels can be used on many surfaces, but paper is the most common. Because pastels are so intensely pigmented, they can be used successfully on many colors of paper. Pastel artists rarely use plain white paper. I actually prefer black paper. I have made a little bird today (a Golden Winged Warbler) to demonstrate how I paint with oil pastels.

1). Before I use my pastels I do a pencil outline sketch. Pencil is easy to erase, so I make my sketch in pencil until I am satisfied.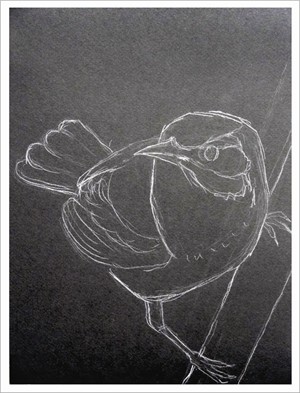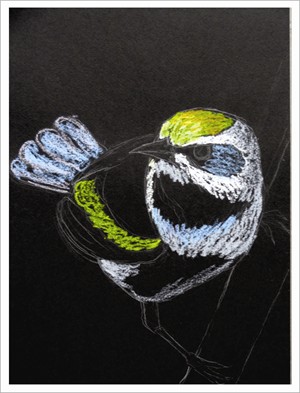 2). When I begin to apply oil pastels, I start with the lightest areas.
3). It is generally easy to put dark colors on top of light, but much harder to put light colors on top of dark.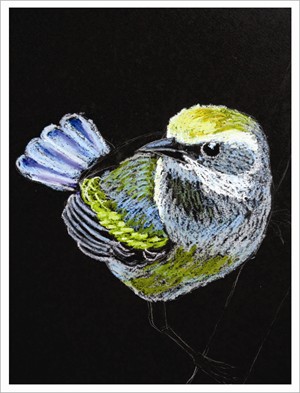 4). I gradually start adding in more colors…
5). …eventually building up many layers.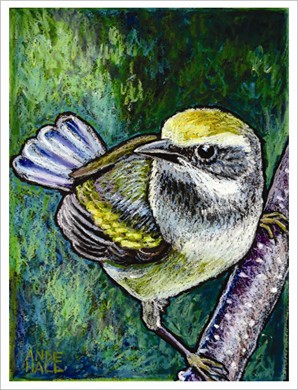 6). And here is the Golden-Winged Warbler!
I hope you have as much fun with your oil pastels as I do!
Cheers!
Ande


13. Is there anything else you'd like to share with us about your art?
Yes: The International Union for Conservation of Nature is the world's largest and oldest wildlife conservation organization, and I donate 5% of my art income to IUCN!


Thank you so much Ande for your interview and for being a part of our Artist Spotlight! And also for inspiring an embroidery design for our Little Stitchy Collection.


You may also like….




We hope you like our free embroidery pattern of the Spring Songbird. We also hope you found Ande Hall's interview as interesting as we did! She is one of our favorite artists, and we've even bought two of her beautiful original oil pastel paintings to hang in our home! We think she has such amazing talents! And be sure to check out some of our past artist interviews and other free embroidery designs shown above.


Return to Artist Spotlight Interviews
Return to Free Embroidery Designs
Return to Home Page