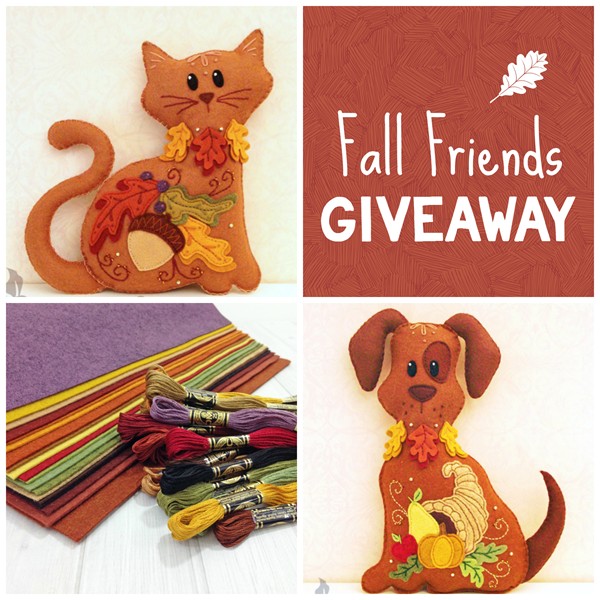 We are excited to announce that we are partnering with Busy Little Bird for a joint Fall giveaway! They are such a wonderful supplier of National Nonwovens felt, and a great resource for anyone who loves sewing and crafting!! Visit their website!
And now about the giveaway…
A total of 6 winners will be drawn!!
The giveaway starts Sunday, September 18th, and ends on Friday, September 23rd.
Giveaway details below!


The Prizes
First Prize:
One first prize winner will be drawn. The winner will receive both the Thanksgiving Cat and Thanksgiving Dog PDF patterns, and Busy Little Bird will supply the felt and floss to make both patterns! The felt bundle may have a few color substitutions from what we originally used in our patterns due to colors being discontinued by the manufacturer, but it will all be close matches and will be just what you need to make one each of the cat and dog!
Second Place:
There will be 2 second place prizes handed out! The second place prize winners will receive 3 PDF patterns of their choosing! These will be sent by email.
Third Place:
3 third place prizes will be handed out! Third place winners will win their choice of two PDF patterns! These will be sent by email.
Important note: All patterns will be emailed to you as a PDF pattern. No patterns will be physically mailed to you.
How To Enter
You can enter the contest by filling out the form below. When you are done, you will be told how you can earn additional entries. And aside from what the form allows, we will also be counting a "share" of our Facebook post about the giveaway as an additional entry. And we will also be accepting additional entries for signing up for our newsletter! Just comment on this blog post that you have subscribed and you will earn another entry! Or, if you are already a subscriber, comment on this post telling us that, and you too will get another giveaway entry!!




Good Luck, and Happy Fall!!